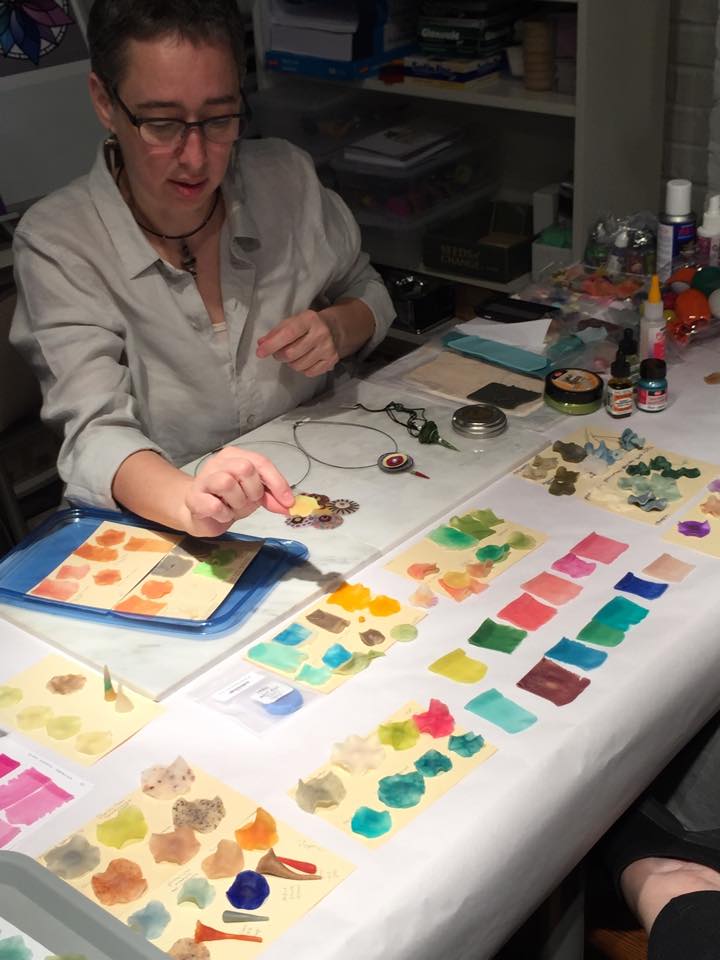 CLASSES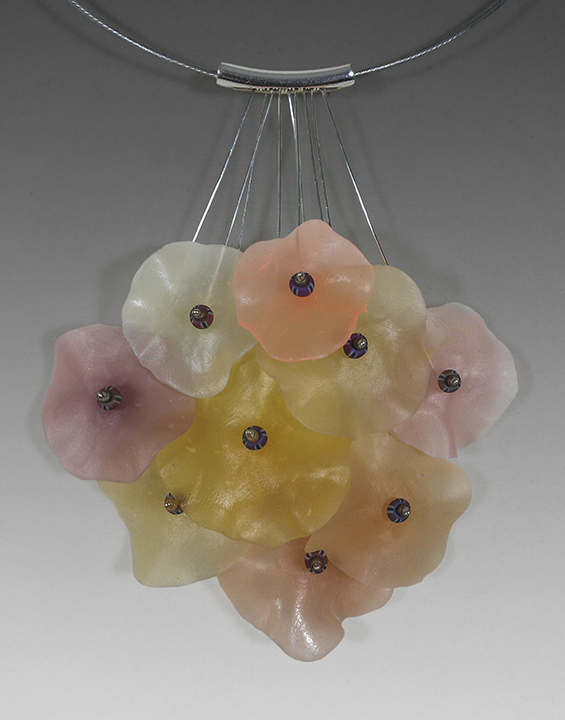 Translucent organic and inclusions
Translucent polymer clay can be very delicate and mysterious and adding inclusions to it can enhance the experience. In this class students will be testing different ways to add color to translucent clay and how different brands behave. It is all about experimentation; then we'll combine them with beads and wire to assemble the samples into jewelry.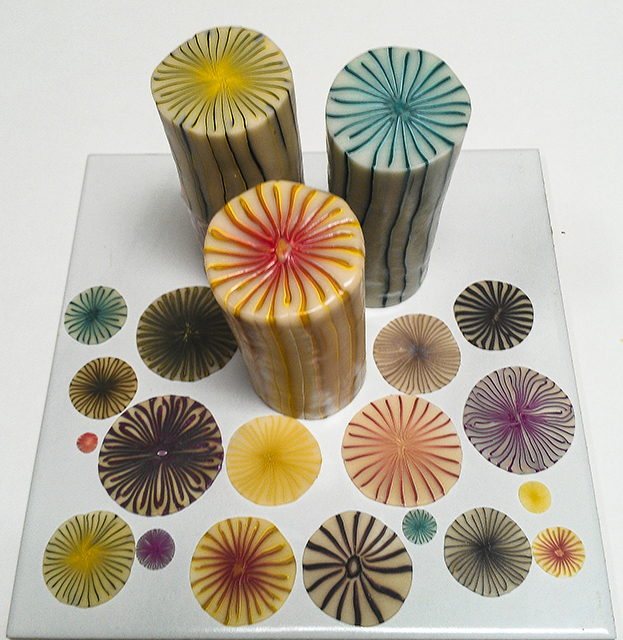 Translucent canes
Explore the subtle beauty of translucent polymer clay. The semitransparent quality of this material can be utilized to add depth to your work, or be finished to a glass-like surface. Take advantage of these properties during the workshop to create translucent-based canes with an organic feel (stripes, circles and dots) and assemble them into jewelry.

Org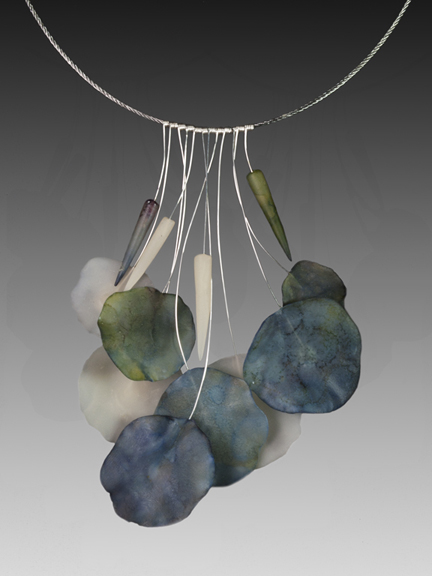 anic Polymer and wire
In this class students explore the many ways of combining polymer clay and wire. Even when wire is used as a purely structural element, the piece is better served by using it as integral part of the design. The addition of wire can help give a piece a range of visual expression, from an organic to a very slick look, from delicate to strong, from shiny to rusted. It can connect the different elements, help add movement to a piece, strengthen a union or be used as armature. Wire can serve as hinges, jump rings, closure mechanisms, bails, etc. Students will learn how to use it in individual design elements, pendants, different kinds of findings for necklaces earrings and brooches, even to sew polymer; experimenting with different gauges for different purposes. The pros and cons of incorporating the wire before and after curing will also be discussed.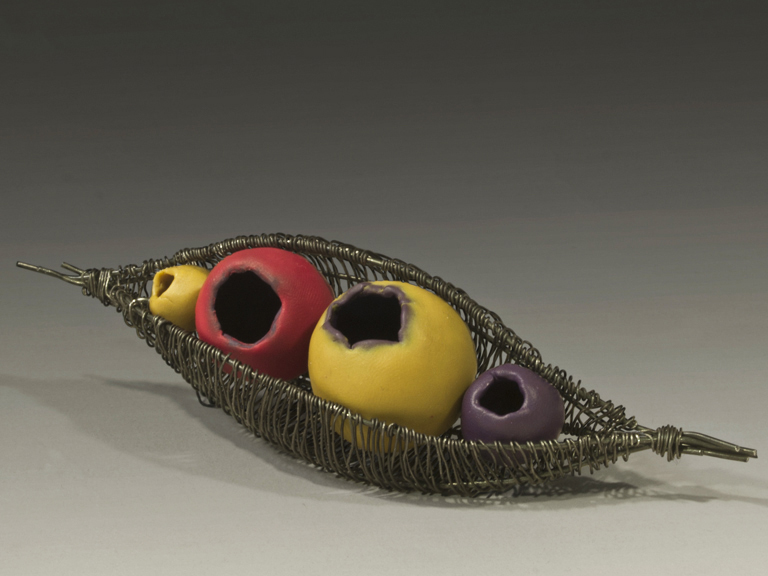 Woven wire brooch
In this one-day class students will learn how to use wire to weave a basket-like pod. We will also be working on a series of organic elements that will then be combined to construct a brooch or a pendant.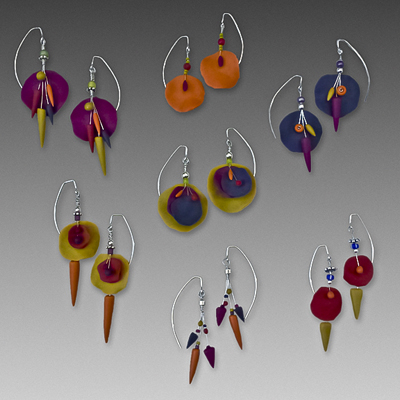 Polymer and wire earrings
In this class students will design a collection of earrings. We will be working on developing a vocabulary of simple elements constructed with polymer and wire. We will embed the wire into each polymer element therefore becoming an integral part of the design, at the same time using it as its structure and visual element. Several configurations will be finished in class.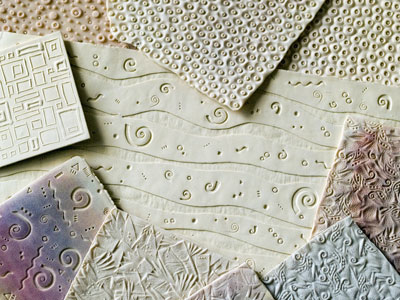 Textures - Making your Mark
Texture is an important element of design. It can help emphasize the intended message and reinforce the design. Texture is both a tactile and a visual experience; it can be a vehicle for the concept or a purely decorative element. Physical and visual textures can be used to imitate and suggest recognizable surfaces; they can be evocative of cultures, materials, nature, be primitive or technological.
The emphasis of the class is on making your own texture plates to be used with polymer clay. Students experiment with textures, metallic foils and powders, inks and paints, metallic and translucent clays, etc. Participants leave with no less than two texture plates and a variety of samples as a showcase of the techniques learned.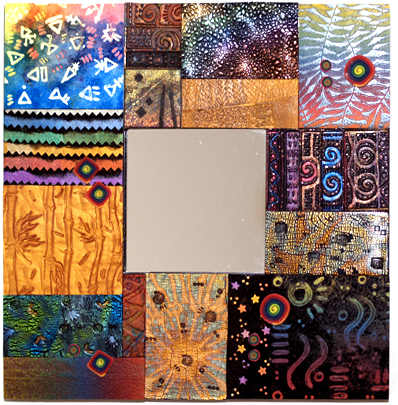 Surface design on polymer clay
Polymer clay is a fascinating, versatile material. So many finishes, so many textures, so many possibilities. The emphasis of this class will be on learning an array of surface techniques to be applied to polymer clay. Students will experiment with stamps, textures, liquid clay, metallic foils and powders, inks and paints, metallic and translucent clays, image transfer, batik, mica shift, crackling, etc. This class is suitable for students of all levels.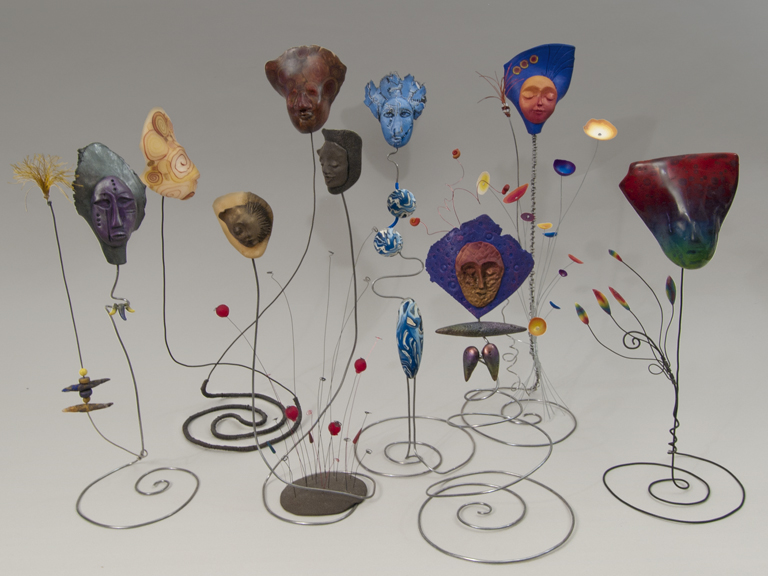 Mixed Media Sculptures
In this class students will make three dimensional mixed media sculptures. We will use some molds as a starting point, but students will develop their own personal vision from there, with each finished piece showing her/his own personality and message. We will use polymer clay, wire, fibers, papers, beads, etc. Students are also encouraged to bring found objects or any material they would like to incorporate. This class is a great way of getting your creativity flowing and open new paths for your own work.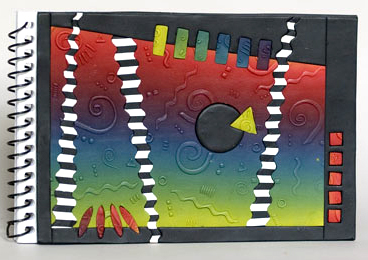 Polymer Clay for Beginners
Have you ever wondered if polymer clay is the medium for you? This class offers an introduction to polymer clay. Students learn basic techniques such as Skinner blend, basic canes, textures, stamping, metallics, etc.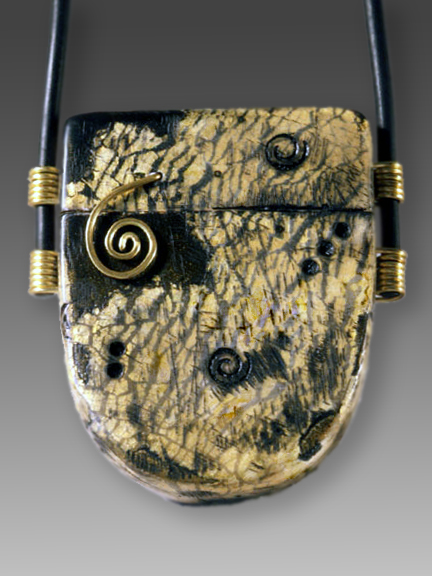 Hollow Forms with Polymer Clay
Hollow forms hold mystery. They can be colorful, textured, spiritual, or hold your secrets inside. In this class students will create their own molds and then use them to make hollow beads, pendants or vessels in polymer. Through a multiple step curing method we will construct the base and outer layers learning surface design and finishing techniques in the process. We will also explore different closing mechanisms.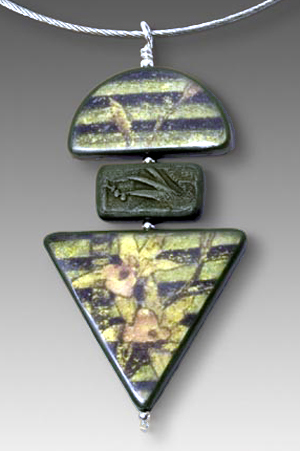 Experimental Image Transfer
In this two day class we will experiment with printing and transferring images to different media; from paper and fabric to polymer clay including all other surfaces students may want to try. On the first day we will try all sorts of materials and on the second day students will concentrate on the material of their choice. Participants will leave with a rich sampler to apply to their future projects. Students are encouraged to bring their own images. Some digital image manipulation will be demonstrated.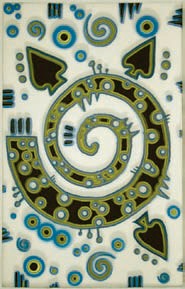 Images on Fabric
There are many ways of getting an image onto fabric. From digitally printing directly onto the fabric to several techniques of transferring them; from transparencies, to iron-ons, etc. A range of results can be obtained using different fabrics with different textures. In this class we will try as many variations as time allows and students will leave with a rich sampler to apply to their future projects. Students are encouraged to bring their own images. Some digital image manipulation will be demonstrated.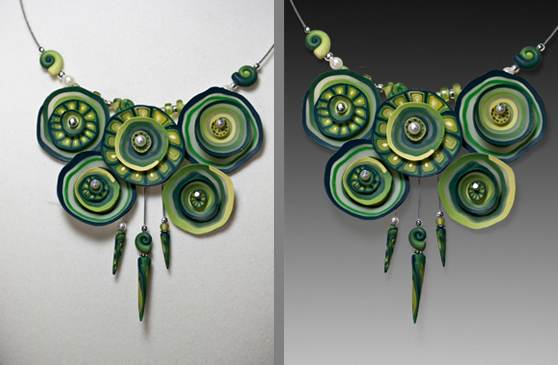 Photographing your Jewelry
If you want to have an online presence or enter your jewelry into juried shows, good photographs are the main way of showcasing your work. In this class we will be taking photographs of your jewelry. We'll talk about lighting and backgrounds. We'll discuss digital postproduction. We'll also talk about the different file types and resolutions and when to use each one.
SELECTED EXHIBITIONS

VIII Biennial of Contemporary Textile Art. World Textile Art- Sustainable City- Salón Arte Textil Pequeño formato - Museo del Traje –Madrid, Spain, 2019
3d@mgg2 - Morgan Glass Gallery - Pittsburgh, PA - Curated by Amy Morgan, 2019
Contextile 2018- Jurors: Lala de Dios, curator and president of ETN; Magda Soboń, artist and teacher; Paulo Leocádio, director of ESAG and teacher; Fernando Penteado, artist and curator; Cláudia Melo, artistic director of Contextile 2018 at the Palácio Vila Flor – CCVF, Guimaraes, Portugal, 2018
Inspired! - Fiber art exhibition organized by the Fiberarts guild of Pittsburgh! At Harlan Gallery at Seton Hill University, 2018
Into the Forest – Leading artist, organizer of an international installation at Spinning Plate Gallery, Pittsburgh, PA www.intotheforestinstallation.com, 2017
Repository - Spinning Plate Gallery- Pittsburgh, PA. A six artists collaborative installation. With Kirsti Adkins, Michelle Browne, Donnie Day Pomeroy, Judy Manion and Rise Nagin, 2016
Into the Forest: Early Growth - Park Towne Apartments Gallery organized by InLiquid- Philadelphia, Pa. A collaboration installation with Emily Squires Levine, 2016
Time and Materiality -Three-person exhibition with Michelle Browne and Camila Pearce at the Spinning Plate Gallery- Pittsburgh, PA. March 2015- review
A Re-Visioning: New Works in Polymer - Curated by Diane Levesque- at the H.F.Johnson Art Gallery at Carthage College- Kenosha, Wisconsin September 2014
The New Collective - Juried by Petra Fallaux, Clayton Merrell and Renée Stout - Pittsburgh Center for the Arts- Pittsburgh, PA. November 2013
An Object of Beauty: Metal / Fiber / Glass– Curated by Judy Barie – Chautauqua Institution, Chautauqua, NY . June 2013
5x5x5- Juror Stefanie Fedor, Executive Director of Arlington Arts Center - Target Gallery at the Torpedo Factory Art Center- Alexandria, VA- December, 2012
An Art Journey from Argentina in Philadelphia -Philadelphia City Hall, Philadelphia, PA -November, 2012
Lenses and Filters- Juror Susan Brandeis - Pittsburgh Center for the Arts, Pittsburgh, Pa - May 11/July 22, 2012
Uncommon Perceptions in Fiber Art- Sim Gallery - Pittsburgh, PA - Five fiber artists exhibition - August 14 to September 10, 2011
Sixth Biennial of Contemporary Textile Art. World Textile Art-Air Mexico 2011- Salón Arte Textil Formato Grande - Museo Diego Rivera Anahuacalli –Mexico City, Mexico. May/July 2011
Unveiled- Juror Arturo Alonzo Sandoval - Pittsburgh Center for the Arts, Pittsburgh, Pa - April 2011

Northeast Regional Contemporary Fiber Exhibition –Rochester Contemporary Art Center- Rochester, NY- April/May 2011 Jurors Gerald Mead, Mary Giehl and Marie Via.

re.CYCLE.fiber- Pittsburgh Center for the Arts - Juried by Jozef Bajus - November, 2010/January, 2011

2010 Progress & Possibilities - Best of show in this competition organized by the IPCA, juried by Dayle Doroshow, Sue Heaser, Mary Sullivan Holdgrafer, and Executive Director of the Arrowmont Art School David Willard.

Shout! – On line exhibition curated by Rona Sarvas Weltman on Crafthaus- May 2010

150 Candles - Christine Frechard Gallery – Pittsburgh, PA - April/May 2010

Rock- SPACE Gallery- Part of Rock, Paper, Scissors, Jill Larson curator- Pittsburgh, PA - Apr-May 2010

Sleight of Hand - Borelli-Edwards Gallery – Fiberarts Guild of Pittsburgh group show- Pittsburgh, PA - March/May 2010

3 Way - A three person exhibition at Fe Arts Gallery - 4102 Butler St , Pittsburgh, PA, 15201 - 412-860-6028 - Opening October 16, 2009

Associated Artists of Pittsburgh Ninety-Ninth Annual exhibition - Carnegie Museum of Art- Pittsburgh, PA - August 29 to November 8, 2009

The BurghBot Project - at 15 Minutes Gallery -2000 Technology Drive, Pittsburgh, PA 15219 - Organized by the Piitsburgh Technology Council and the CREATE Lab (CMU) - 15 Minutes Gallery - Pittsburgh Technology Council - BEST OF SHOW Award- Watch Flora in action. June 18. 2009 to July 17, 2009

5th International Biennial of Textile Art - Organized by the World Textile Art Organization - Buenos Aires - Argentina - Palais de Glace
PUBLICATIONS

Polymer Journeys- The Art & Craft of Polymer-2016- Edited by Sage Bray- Tenth Muse Publications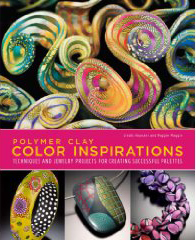 Polymer Clay Color Inspirations: Techniques and Jewelry Projects for Creating Successful Palettes by Lindly Haunani and Maggie Maggio - Watson-Guptill

Polymer Clay Creative Traditions: Techniques and projects inspired by the fine and decorative arts/ Judy Belcher - Watson-Guptill publications.

400 Polymer Clay Designs: a collection of dynamic & colorful contemporary work / Suzanne J. E. Tourtillott – Lark Books.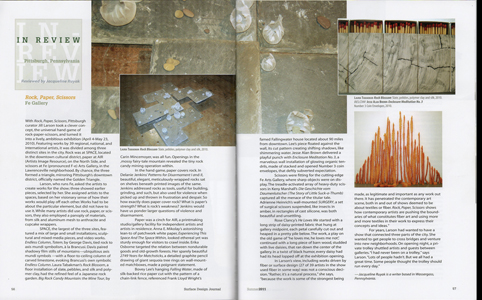 Surface Design magazine review of Rock, Paper, Scissors by Jacqueline Ruyak

Polymer Arts – Mentor Artist, Laura Tabakman–Spring 2013 issue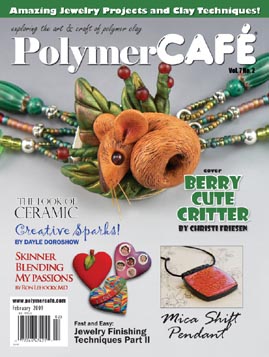 Polymer CAFÉ magazine – Two Clay or not Two Clay article – Feb' 09 issue

Polymer CAFÉ magazine – Reversible transfer pendant article - Oct '08 issue (vol. 6 No. 6)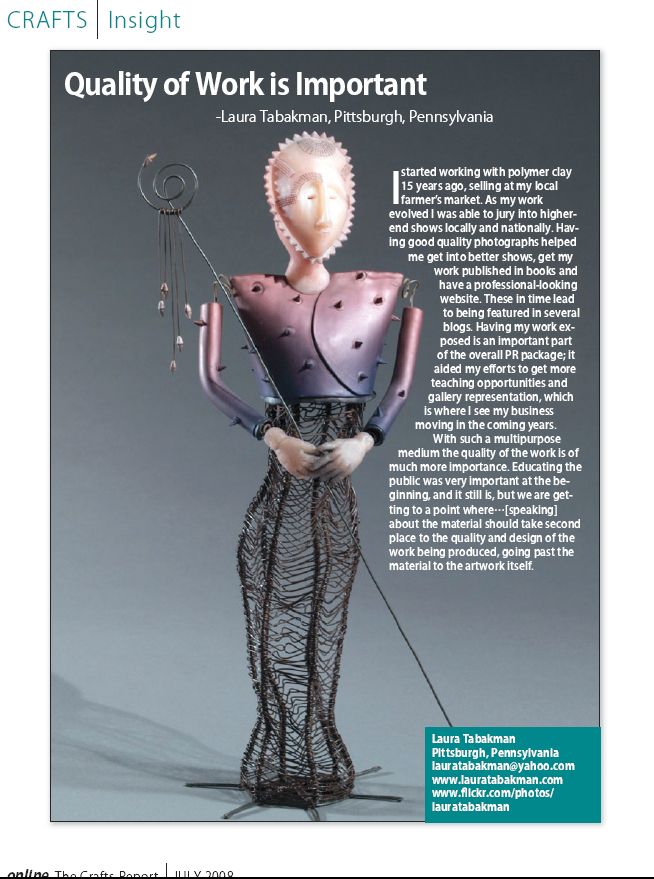 The craft report magazine- July '08 online issue