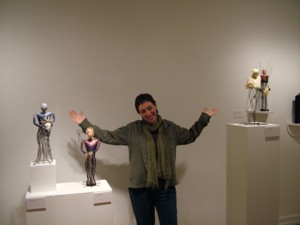 Bio
I was born in Argentina, where my family and me lived until 1989 when we moved to the US. I currently live and work in Pittsburgh.
After exploring several media including photography, I discovered fiber arts. Working with fibers appeals to me because of its tactile quality, variety of textures and colors. I also began working with polymer clay in 1995, making jewelry. The attraction to polymer clay comes from the incredible versatility of the material.
My current work integrates all my interests into jewelry, digital printing, mixed-media sculptures and installations.
An award-winning studio artist, my work has been shown in exhibitions nationally and internationally and has been featured in books and magazines. I have been teaching in the US and abroad since 2005.
Statement
The passage of time touches, alters materials and produces decay. There is beauty in the fragility of the natural world's decomposition. Witnessing the marks left behind moves me and I incorporate that feeling into my work. The intention is to capture a moment in time, be it with a photograph, a piece of jewelry or an installation.
I am particularly interested in experimenting with different approaches to materials. I create my work with a series of repeated elements, each one made individually giving it its own character. Working this way, repetition through repetition, takes me to a meditative state, where time stops and the work flows.
I am intrigued by the role light plays, passing through shear and translucent materials and generating shadows. I experiment with the limits of balance trying to create tension between stillness and movement.
The objective, when creating my installations, is to immerse the viewer in an allusive environment where fragility, an uncertain balance, light and shadows are part of the experience.
I am a member of the Fiberarts Guild of Pittsburgh, the Pittsburgh Polymer Clay Guild and the International Polymer Clay Association.
More of my work on Flickr www.flickr.com/photos/lauratabakman on Facebook https://www.facebook.com/laura.tabakman and on Instagram https://www.instagram.com/lauratabakman/